ROMEO SANTOS IS A TRUE SUPERSTAR
Pink Floyd's "The Wall" couldn't do it, Jay Z got help from Justin Timberlake and Eminem, and Metallica didn't try. Selling out consecutive shows at Yankee Stadium, with its capacity of roughly 50,000, is nearly impossible for any pop music artist not named Paul McCartney. But Romeo Santos, who performed there Friday and Saturday nights, is about to achieve that feat. Mr. Santos, who grew up in the Bronx a Yankee fan, calls himself the king of bachata, a genre born in the sugarcane fields of the Dominican Republic, refined in New York City and characterized by rippling guitars, a gently pulsating beat and, in contrast to salsa, an absence of horns. But despite his enormous popularity — one video from his most recent CD has been viewed 345 million times on YouTube, compared with 185 million for Beyoncé's "Drunk in Love" — he is all but unknown to Americans who speak only English. Mr. Santos's success is a testament not only to the growing influence the nation's Hispanic population of more than 50 million and his own two decades in the music business, but also to a new kind of music he has pioneered and mastered. By infusing a traditional Latino sound and its subject matter — romance — with R&B and inflections of hip-hop, Mr. Santos, 32, has created a genre that bridges traditional differences of taste between the Caribbean and Mexican-American worlds while appealing to young Latinos growing up listening to American music.
"There's a large pool of young Latinos wanting to connect to something that's kind of hip-hoppish but isn't rap, that's kind of romantic, like R&B, but is in Spanish and thus their own," said Deborah Pacini Hernández, the author of "Oye Como Va! Hybridity and Identity in Latino Popular Music" and a professor of anthropology and American studies at Tufts University. She has tracked Mr. Santos's career since he was in the boy band Aventura. "Bachata is still about romance," Ms. Pacini Hernández said. "It's not that braggadocio, super hyper macho thing, and it connects to a world of dance," typified by bachata festivals in Europe and Asia.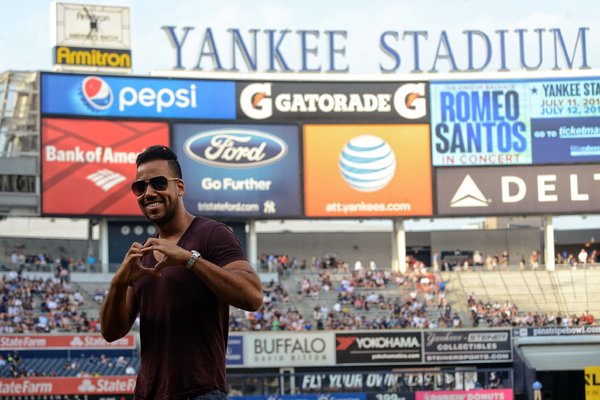 In contrast to stars like Ricky Martin, Marc Anthony, Enrique Iglesias, Jennifer Lopez and Shakira — all of whom Mr. Santos cites as paving the way for his rise — he has not pursued a crossover approach meant to expand his presence in the English-language mainstream. Though he sprinkles English phrases into many of his songs, and tends to speak in Spanglish when he is offstage, he has thus far refused to record an album in English, saying "I believe in my culture, and I believe in my genre, because they are beautiful." Instead, he's become a beacon for reverse crossover. English-language artists, aware of his popularity in one of the nation's fastest-growing demographics — young Hispanics — are eager to collaborate. On his second solo album, "The Formula, Vol. 2," released in February and an instant hit, both Drake and Nicki Minaj gamely attempt to sing in Spanish: he on "Odio," or "Hatred," a track that also features Drake's English-language rap, and she on "Animales." Mr. Santos' first solo record, released in 2011, featured tracks with Usher and Lil Wayne, but their collaborations were in English, not Spanish.
Article from "The New York Times".